---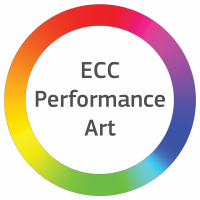 Online Performance Art Camp, August 24-28, 2020
In collaboration with G12 HUB, a gallery and performance art education program based in Belgrade, Serbia, ECC Performance Art offers a unique online performance art camp. The 5-day long intensive program equips participants with practical skills and theoretical knowledge to stimulate their creativity and improve their artistic practice. Considering the historic importance of Serbia for the international performance art scene, it is contextualized within the specific history and culture of the region and the strong legacy performance art has in it with artists such as Marina Abramovic. The camp is led jointly by performance artist Marta Jovanovic and art historian and ECC Performance Art-founder Anja Foerschner.

Conceptualized as a platform for experience, knowledge exchange, and creative growth, the camp aims to clear up the creative space within us, to foster innovative approaches, and to build a community of like-minded and like-hearted people. This is an opportunity for participants to critically reevaluate their creative process and approach the limitations of their minds and bodies. Over the course of its duration, psychological and physical exercises will challenge participants to explore and transgress their boundaries, clearing out their minds and hearts for new inspirations and ideas. Participants will be guided through this process through exercises such as "Night Watch," a durational experiment of "watching" the surrounding space purely through one's senses, thus experiencing it through different, unknown dimensions. A "Vow of Silence" will also be featured as a way for introspection and to establish a nonverbal form of communication.
In addition, the camp will include theoretical segments that will introduce participants to the rich but understudied history of performance art in former Yugoslavia and its international resonance, as well as aspects such as performance art documentation and archiving. Participants will be prompted to critically examine their practice and to develop their own line of thinking against historical precedents.
DURATION AND FORMAT

August 24-28, 2020

Responding to the current situation, the camp will take place online, using both live video sessions as well as a virtual classroom where readings and assignments can be shared and questions discussed jointly in a forum. Live sessions will take place daily from 4-8pm CET and are supplemented by one-on-one mentoring sessions, scheduled at each participant's availability. The camp is organized as an intense, practice-based format and each participant is expected to attend the live sessions as well as produce work and/or research assignments in preparation for each session. A final performance at the end of the camp is mandatory and will be streamed online to an invited audience.

LOCATION
online
FEE
EUR 195. No equipment needed
LANGUAGE
English
APPLICATION
In order to apply, please send a short CV and 250-word motivation letter outlining how you envision your contribution to the camp and how the camp will benefit your practice to info@ecc-performanceart.eu.
APPLICATION DEADLINE
August 10, 2020

Space is limited to 10 participants in order to ensure proper attention for each student. If interested please apply promptly. Accepted participants will be notified by August 15th, 2020.
The camp is open for artists, scholars, and curators alike as we believe that the mutual experience and exchange is essential in understanding the creative process and further the discipline of performance art.
Please direct any questions to: info@ecc-performanceart.eu